Where children learn to fly
NOW TOURING! 
NOW ENROLLING!
Hummingbird Montessori is Riverstone's newest Director-owned and operated schoolhouse where we provide an environment that prepares each child to become the best version of themselves.
We offer an authentic Montessori education for ages 6 weeks to 6 years old that integrates traditional, 21st century and play-based early childhood practices.
With more than 30 years of combined Montessori leadership experience, our administration's passion is rooted in helping children not only find happiness, but reach their full potential.
Located on University Blvd. and West Avalon at the Shops in Riverstone, our brand new school building was designed with your child's safety, health and security as a primary focus. Each classroom has been thoughtfully prepared providing structure, order and freedom of movement. Not only do our classrooms meet your child's individual development, we have multiple age-appropriate playgrounds to explore, play and adventure on!
MISSION
Our mission is for your child to enjoy their childhood to the fullest while learning, developing, and growing into our future leaders
OUR GOAL
To surround your child's mind with the wonder and excitement of learning and prepare them not only for school but for life
OUR CORE VALUES
THE KEY TO EDUCATION IS A LOVING AND WARM ENVIRONMENT FOR YOU AND YOUR CHILD IN OUR HUMMINGBIRD FAMILY. OUR STAFF RESPECT AND VALUE EACH CHILD AS THEIR OWN UNIQUE INDIVIDUAL AND GUIDE THEM TO DEVELOPING TO THEIR FULL POTENTIAL
infant
toddler
pre-primary
primary
infant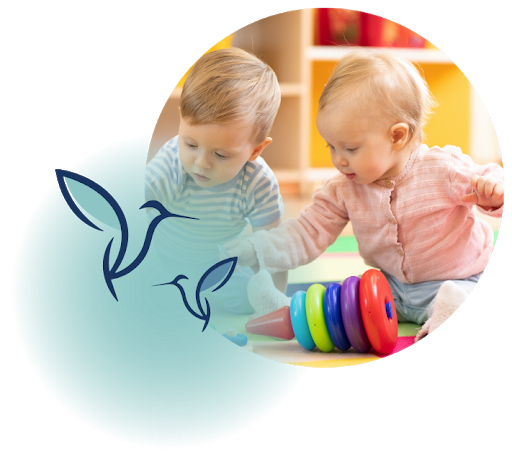 infant
AGE RANGE
6 Weeks – 15 Months
Infants learn through their senses so we make sure each infant can experience a safe, nurturing and educational environment.
LEARN MORE
toddler
pre-primary
primary
"The greatest gifts we can give our children are the roots of responsibility and the wings of independence."
-Maria Montessori